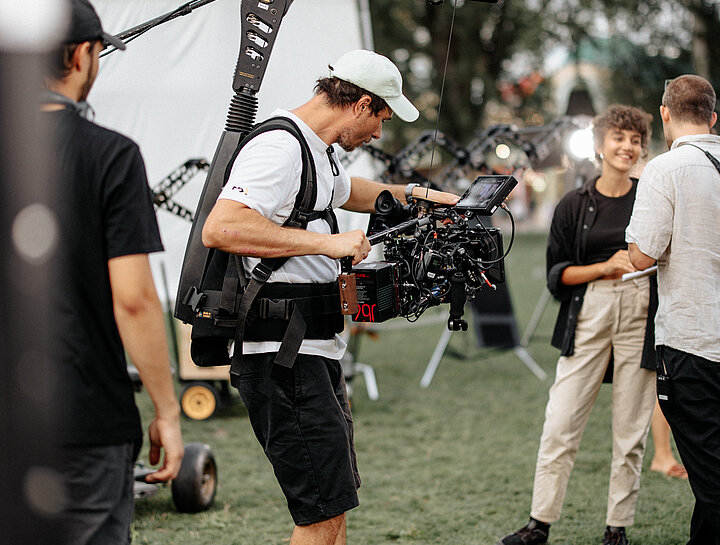 National & regional funding institutions
Austria offers numerous film grants at national and regional level to enable independent filmmaking. If contacts to local producers do not already exist, FILM in AUSTRIA can mediate between international and Austrian production companies.
More national funding institutions
In addition to FISA+ there are the following film funding institutions at federal level:
01

Austrian Film Institute

Das Österreichische Filminstitut (ÖFI) ist die größte Fördereinrichtung von Österreich. Als bundesweite Institution fördert das ÖFI das österreichische Filmwesen nach kulturellen und wirtschaftlichen Aspekten. Gefördert werden österreichische Kinofilme bzw. diesen gleichgestellte Koproduktionen (Spiel- und Dokumentarfilme; Mindestlänge von 70 Minuten bzw. bei Kinderfilmen 59 Minuten und bei Nachwuchsfilmen 45 Minuten).

Die Antragsberechtigung setzt eine ausreichend fachliche Qualifikation und bei Firmen einen Sitz bzw. eine Zweigniederlassung im Inland oder bei Personen die österreichische Staatsbürgerschaft bzw. einen Wohnsitz in Inland (im Falle von EU-Bürgern und EU-Bürgerinnen) voraus.

The Austrian Film Institute (ÖFI) is Austria's largest promotion institution. It is a national film funding agency that supports the Austrian film business based on both cultural and economic aspects. Film funding aims at promoting Austrian cinema films as well as co-productions on equal terms (feature films and documentaries; minimum length 70 minutes, 59 minutes for children's films, and 45 minutes for new talent films).     

Eligibility to file applications is based on sufficiently professional qualification, a registered office or subsidiary in Austria for companies, and Austrian citizenship or a permanent residence in Austria (in case of EU citizens) for individuals. 

Funding is available in the fields of script and project development, production, exploitation (festival participation and cinema release), distribution measures, continuing professional training

Funding decisions are made by a project commission (project-based film funding) at least four times per year. Moreover, the Austrian Film Institute promotes the development and production of new films through performance-based film funding (reference film funding), if the reference film has achieved a certain minimum number of reference points. 

02

Film-/Television Agreement

The Film/Television Agreement (German) is an agreement between the Austrian Film Institute and the Austrian Broadcasting Service (ORF) is designed to promote the cooperation between film and television, particularly in the context of Austrian cinema film productions.

Prerequisites for funding include basic financing by the Austrian Film Institute or another film promotion institution in case of new talent and innovation projects. About 10% of annual resources are dedicated to new talent and innovation projects.

Funding decisions are made by the "Joint Commission" consisting of six members, three of whom are appointed by the Film Institute and three by the ORF, at least four times per year.
03

Austrian Television Fund

The Austrian Television Fund (Fernsehfonds Austria) (German) is administrated by RTR-GmbH (Austrian Regulatory Authority for Broadcasting and Telecommunications) which receives EUR 13.5 million from the fees collected in accordance with Art. 3 (1), Austrian Broadcasting Fees Act (RGG).

Funding is available for the promotion and administration of television productions (including television films, series and documentaries).

Prerequisites for funding (overview):

   Compliance with at least three criteria related to "cultural content", such as:

   Production set in Austria / EEA

   Use of Austrian settings and shooting locations

   Participation of filmmakers from Austria / EEA

   Minimum length 45 minutes

   Qualified independent film production company with a permanent establishment or subsidiary in Austria

   One or more television broadcasters furnish at least 30% of the total production costs

   Broadcasting companies may acquire the rights to television films and documentaries for a maximum of seven years, or ten years for series

Funding support is capped at 20%, in exceptional cases at 30%, of adequate production costs

Special consideration is given to projects with high production expenses in Austria and a high international budget contribution

Funding support is awarded in form of a non-repayable grant. Applications are accepted four times per year. Funding decisions are made by the respective managing director for media of RTR-GmbH under consideration of the RTR funding objectives and reports from the review committee.

04

Federal Ministry for Art, Culture, Civil Service and Sport, Department IV/3 - Film

The Art Section of the Austrian Federal Chancellery supports innovative projects in the fields of feature films, documentaries, animations, and experimental films as well as young filmmakers and new talent.

Funding is available not only for script writing, project development, production, and distribution but also for scholarships, repertory cinema, festival participation etc.

Eligibility to file applications is based on Austrian citizenship or permanent residence in Austria (for at least three years). Applications are usually accepted three times per year (sometimes at different dates for the various fields of promotion). Funding is awarded according to the recommendations of an advisory board. 
Regional Funding
Regional film funding is primarily based on the Culture Promotion Act (KFG) and either directly assigned to the culture departments of the respective provincial governments or represented by independent institutions. In such cases, regional film commissions are often responsible for processing funding programs.
Applications are generally accepted all year long.
Back to main navigation